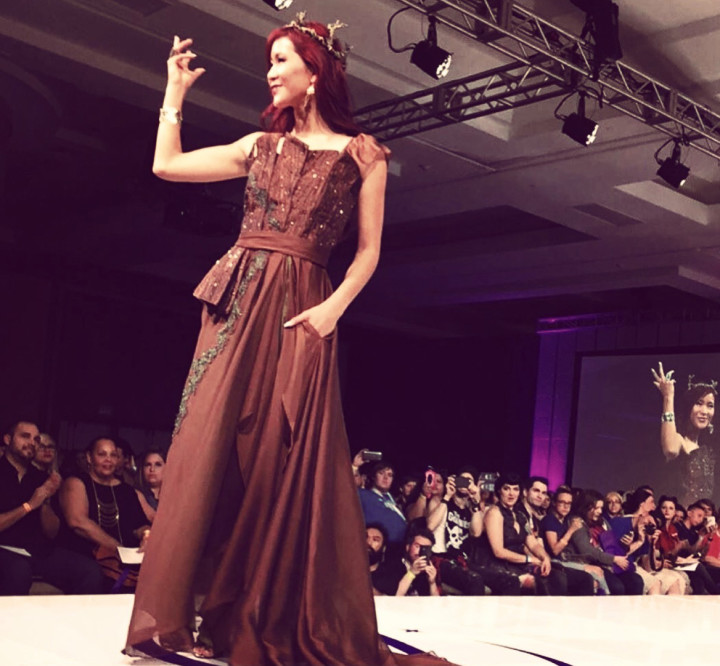 If you really think about it, I've spent the past 2 months preparing for a one minute walk down the runway. It's crazy, but true. Now that the Her Universe Fashion Show is over, I can finally relax and post the progress photos that I've been dying to share these past couple of months! As you know, I absolutely loved Guardians of the Galaxy – as seen in my handmade baby Groot statue and my Rocket Raccoon cosplay. So when I saw the news about the Her Universe Fashion Show submissions, the first thing that came to mind was a Groot gown. I thought about that beautiful scene in the movie where Groot sacrifices himself for the rest of the team and the glowing lights surrounding everyone. It was such a touching scene that I immediately wanted to make something beautiful out of it. And so "She is Groot" was created! Here's my sketch!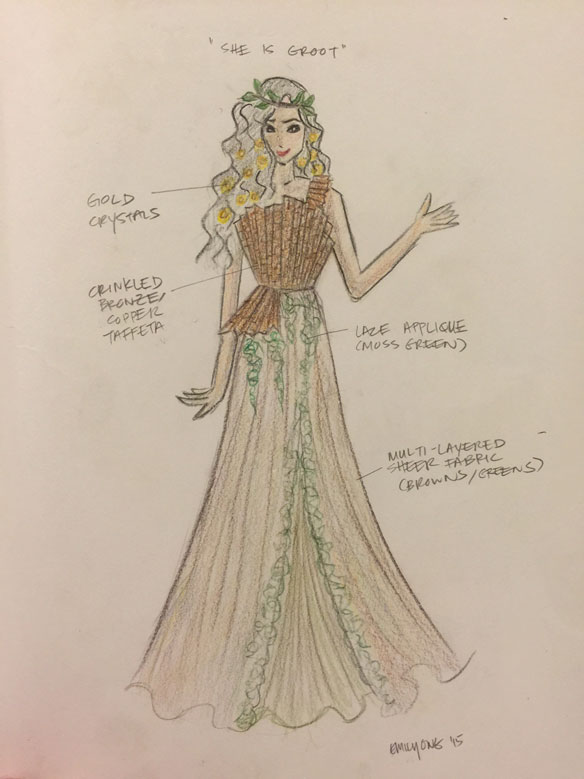 I didn't think much of it after I submitted everything and was incredibly shocked when I received that email saying that my design had been picked! I wanted to throw up. Well, first I wanted to withdraw from the fashion show and then maybe throw up. I mean, I'm not a fashion designer! I'm a project manager at a tech company and all I know about sewing, I've learned from cosplay! However, after the initial shock, I decided to accept the challenge and take on this massive project. I was naive to think it would just be like any other cosplay project because designing from a sketch versus designing based on an already made costume is totally different! I faced tons of challenges trying to translate what I drew on paper into a garment. There were plenty of times I was so frustrated that I wanted to give up, but with lots of encouragement, I knew I had to keep going.
For the design of the dress, I really wanted to balance the more textured "bark" part with a complimentary flowy skirt that would be layers of brown and green chiffon. I actually used chicken wire in the panels of the bodice so that I could bend them along the bust! Once I finished the bodice and skirt, I cut out and airbrushed a ton of white lace appliqué that would be sewn top to bottom along the gown. I wanted to represent Groot's glowing lights by using a variety of gold beads throughout the bodice and on the side peplum. As for the crown, it's made of worbla and has moss, beads, and lace appliqué glued on!
And finally, here I am on the runway!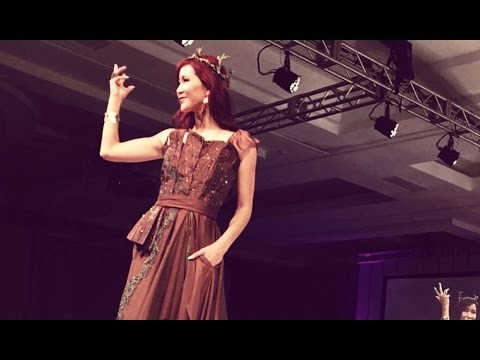 I learned so much from making this Groot gown – from rolled hems to draping fabric, even airbrushing lace appliqué and feeling like I was forever hand beading. Everything element was pretty challenging and I'm so glad I did it. My minute on the runway went by so quickly and I felt such relief and accomplishment once I stepped off that stage. So you can imagine the complete shock I was in when I found out I ended up being 3rd runner up for judge's choice! There was so much incredible talent backstage and I was humbled and honored to even be considered among the rest of the designers. Even better, it was so great meeting other designers, getting to see some amazing craftsmanship, and of course making new friends.
After the show, I just about broke down in tears from just the overwhelming feeling that it was finally over and the fact that I had even been considered as a runner up. I couldn't have done it without my partner in crime who kept me calm under pressure and supported me throughout this whole journey.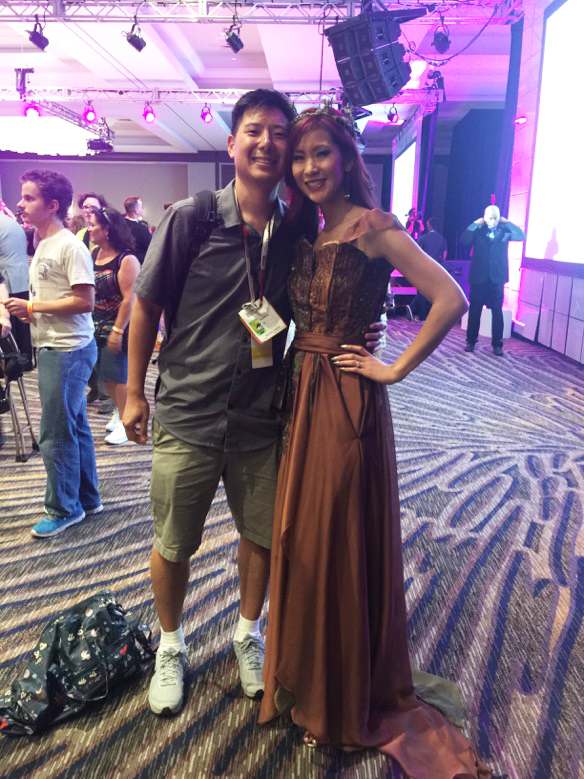 At this point, I'm not sure if I'll be submitting a design for the next year as I'm pretty spent from all the work I put in for this year's show. But hey, who knows what might inspire me to do it again!
P.S. Check out this behind the scenes look at the show (plus a short interview with me)!