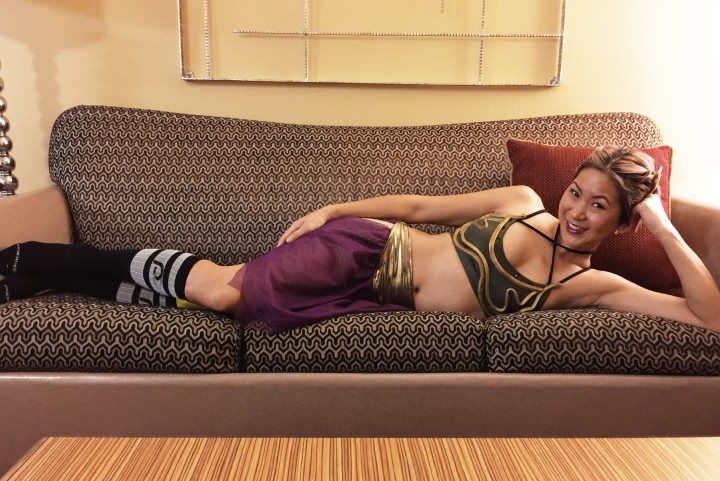 I signed up for the Star Wars 10k back in June 2016 at a point in my life where I couldn't remember the last time I ran more than 2 miles (maybe the 7th grade Turkey Trot?). But as I was on my "must beat cancer" workout high, I decided to go for it. I did my first 10k in October and the Star Wars 10k would now be my second one. I admit, I didn't train as hard as I did for my first 10k, but I knew part of this race would consist of stopping/resting for lots and lots of pictures, many of those with lines. And yes, there are lines, some up to 30 minutes! But as the participants agree, that's part of the reason why you do this race in the first place! I honestly don't know why you would pay so much to run a Disneyland race, only to barely stop and enjoy the views, the characters, and all the awesome surroundings! And of course, I had to take advantage of the theme to brainstorm a fun running outfit. 2 weeks before the race and I still hadn't decided what  kind of costume I wanted to run in, however, with Carrie Fisher's passing, I knew it had to be Leia.
I thought about doing her ceremonial outfit and even her basic A New Hope dress, but the thought of running in a long flowy dress and flowy sleeves just didn't seem ideal to me. Plus with the current state of my hair, I just didn't think it was a great fit. Then I remembered slave Leia. Hm, a bikini-like top with barely there skirt? That could work!
Slave Leia Bra
I started out by hunting down a basic olive colored sports bra. I considered these decent ones before deciding that this was the perfect one from Forever 21. I traced the bra on some newspaper and began drawing out the gold designs. Then I cut out those shapes and used the newspaper as a stencil for the design.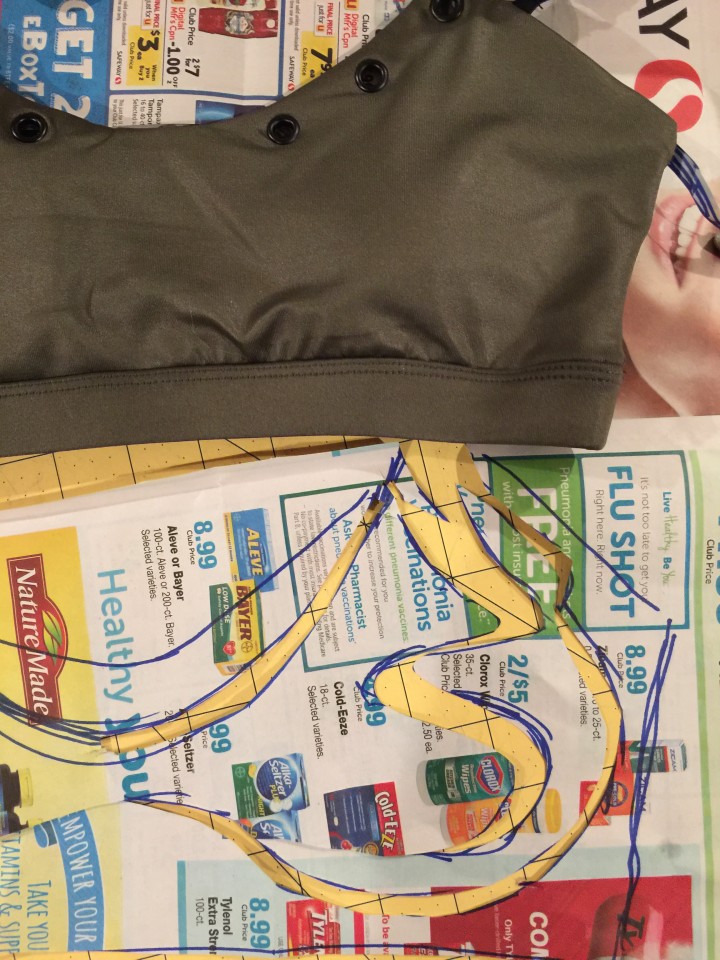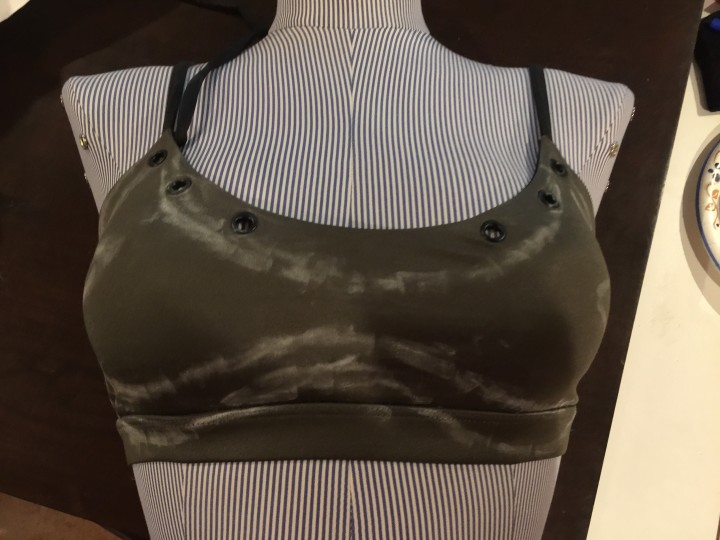 Now that I had laid out where the gold trim was going, the next step was to make the gold trim. To get the decorative details on the bra, I used basic craft foam (about 4-5mm thick). I started cutting strips of foam at an angle to add some dimension.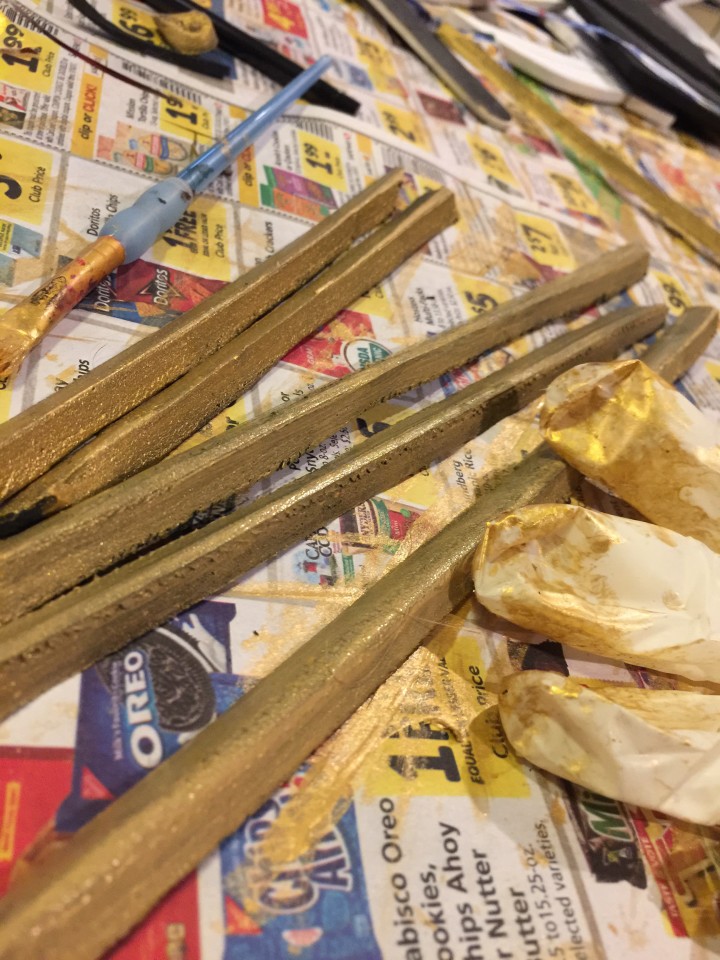 Then I painted everything using your basic acrylic paint (a mix of gold and "dirty" gold). Once everything was dry, I carefully used a glue gun to glue all of the foam onto the bra.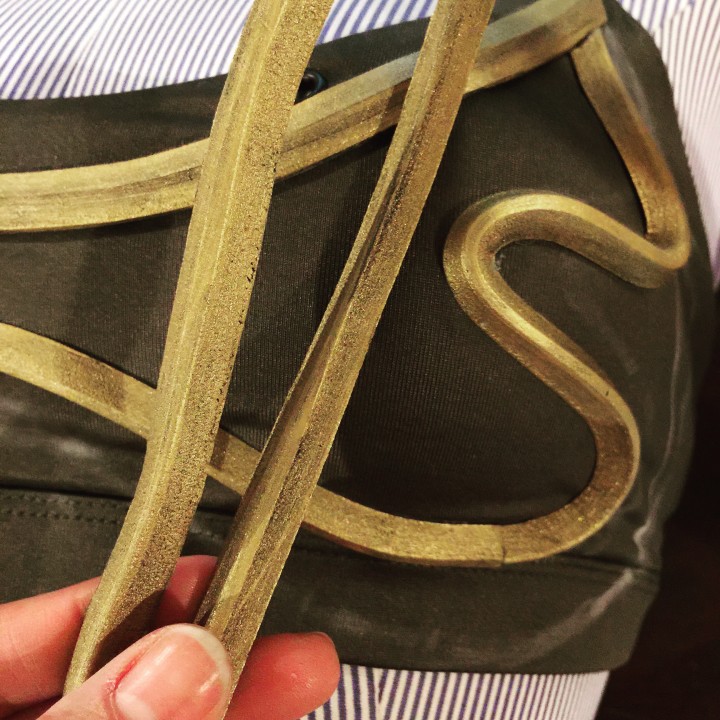 As for the criss-cross tie on the front, I detached that and decided it would serve as a cute choker for obvious reasons. Here's the finished result!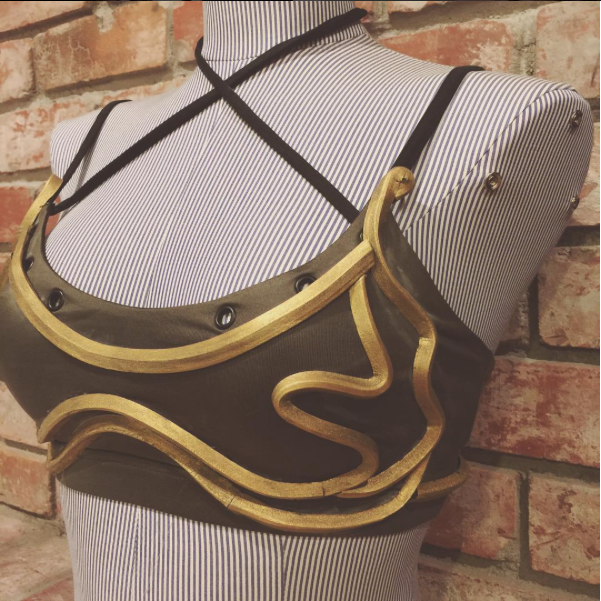 Slave Leia Skirt
For the skirt, I decided to get the lightest material I could find, which ended up being a flowy tulle-like fabric (but not as stiff as tulle). Since I wasn't sure how revealing the side slits would be, I decided to make a pair of nude mesh shorts to wear under the skirt. Plus, running at 5:30 AM meant it would be cold and the shorts added a nice extra layer. For the gold waist band, I used some speckled gold spandex, sewing the purple tulle to the front and back, and then sewed all of that directly on the shorts – that way things weren't shifting around as I ran.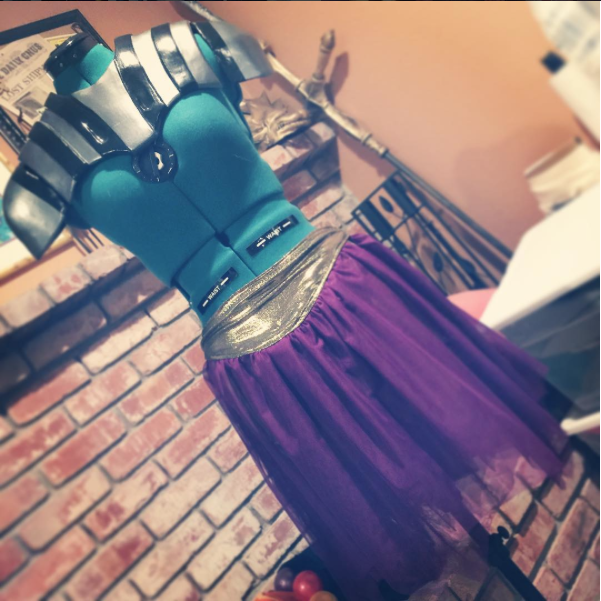 As for the race itself, running through the park (and even some of the back lot) with Star Wars music playing, cast members cheering you on, and characters and backdrops throughout each mile was such an incredible experience. I'm so proud of my husband for completing his first 10k and even though my knee started to hurt at the last mile, he was nice enough to wait for me at the finish line so that we could finish together. Now if only I could get him to dress as Jabba the Hutt… maybe next time? For now, please enjoy us in this trash compactor. :)