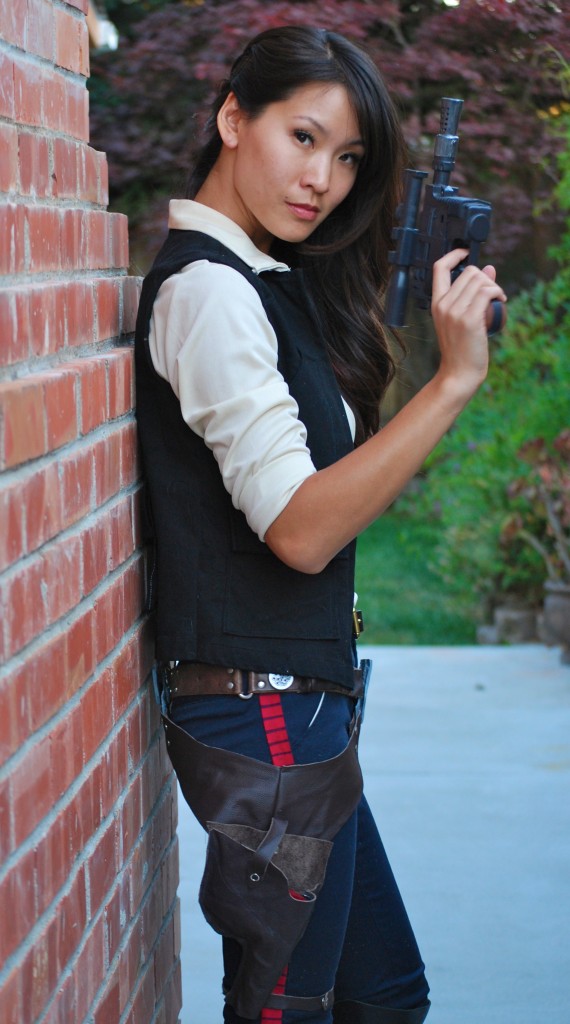 *NOTE* To skip to other tutorials for this cosplay, check out the links below!
Vest
Holster and Belt
Belt Buckles, Accessories and Gun
*Also, due to popular demand, you can custom order your own shirt here in my Etsy store!*
Cosplaying as Han Solo was a blast. Not only was I comfortable wearing the cosplay all day, but I received some extremely nice compliments from my handiwork. I never thought wearing such a conservative cosplay outfit would result in so many sexual innuendos (and more here), but hey, it's all in good fun. Plus I am pretty immune to it from being an ex-FragDoll and all.
Anyhow, I promised tutorials so I am bringing tutorials! I imagined cosplaying as Han Solo would be fairly "easy" since I could buy many of the parts and just reconstruct them. Of course I was wrong and I probably spent just as much time on this cosplay as I would if I had made it from scratch. I ended up making 2 gun holsters and 3 shirts, but that's besides the point. I guess with cosplaying, you never know if you're going to find something better along the way. In a way, I felt like I was leveling up my armor each time!
So this tutorial will cover a few things – the shirt and pants. Part 2 will cover the vest and part 3 will cover the more complicated part – the holster and belt.
The Han Solo Shirt:
In my opinion, the key to a good Han Solo shirt is finding the right material. He wears an off-white, almost beige, 3/4 sleeve loose v-neck shirt with a half-collar. I initially checked eBay and some thrift stores, but couldn't find anything I liked. Eventually I went out and bought some fabric. My first mistake was buying a linen type fabric that looked more like something for a Tattooine farm boy than for a bounty hunter. Linen does not stretch and you would have to add a zipper to put it on. I learned this after cutting and sewing the main body of the shirt. Oops. My second mistake was buying some ivory jersey fabric, which was incredibly stretchy. If you're going to make the shirt from scratch, this pattern will probably work, but I would definitely choose a different material.
First I copied a pattern from another long sleeve shirt to make this basic sleeveless v-neck.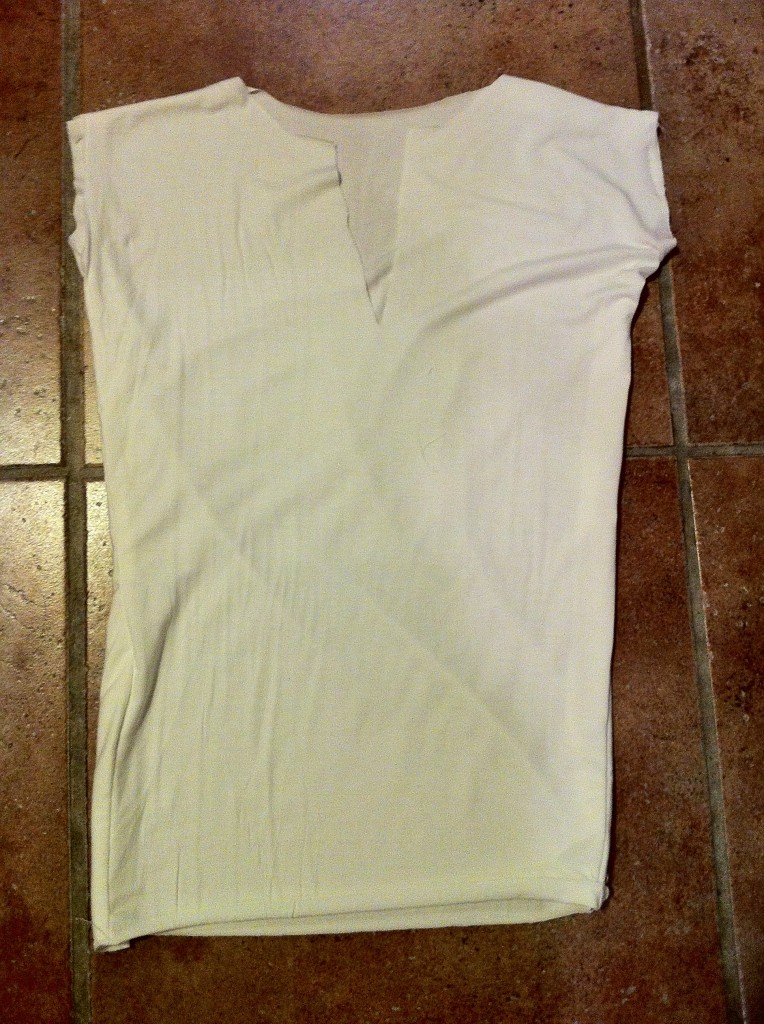 Then I followed this tutorial to add a simple v-neck.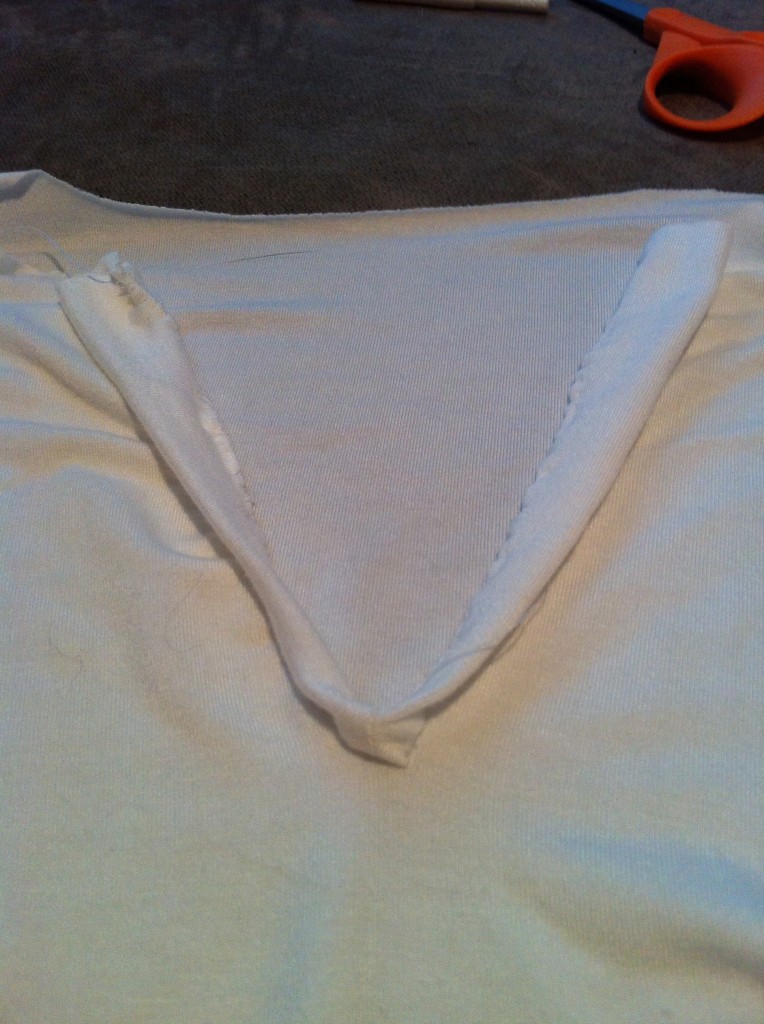 I then added about a 1 inch half-collar around the whole thing. And for those of you who were wondering what the pie container was for, I cut all the way around the container and put that piece into the collar to make it stand up. Here's what the shirt ended up looking like.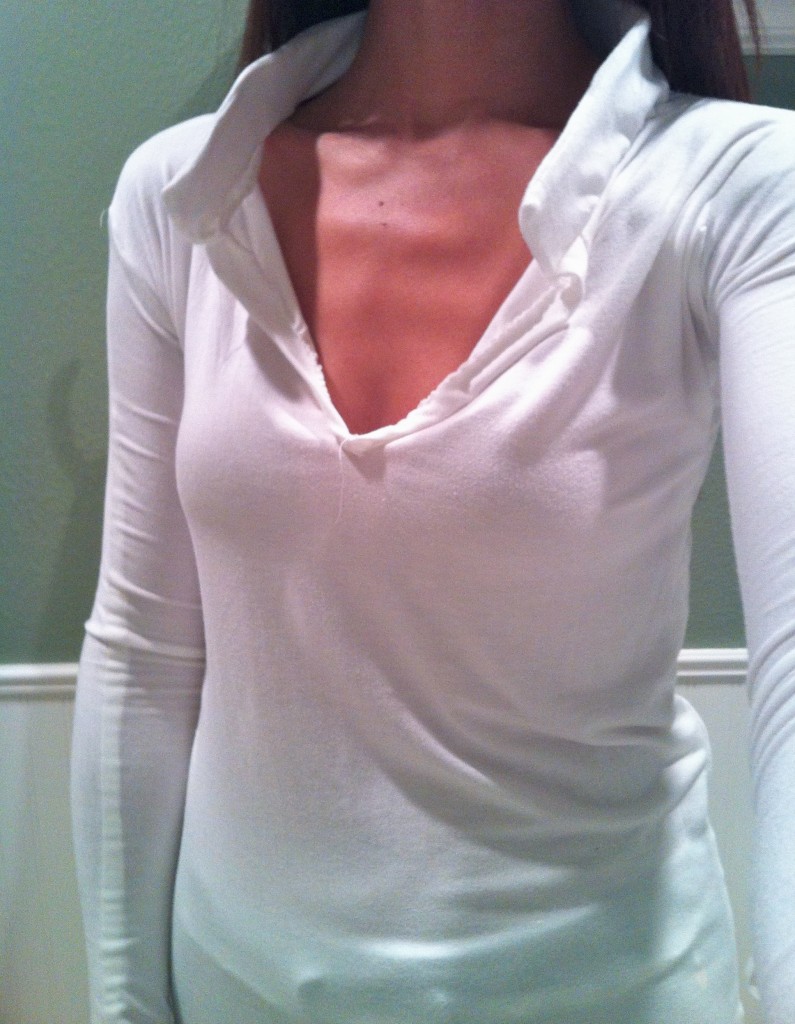 Not too shabby, but I was still kind of "meh" about it.  It was too stretchy and thin and also the collar looked a bit fake. So here I was at square one again! But somehow, luck was on my side because a random visit to a vintage boutique in a nearby town resulted in finding an off-white polyester disco shirt that looked just like this (the dude in the pink)!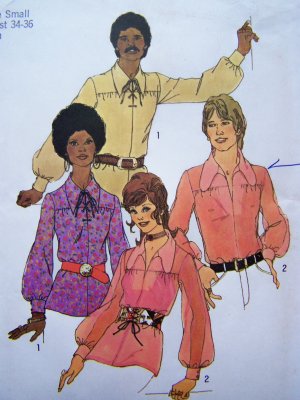 Now all I had to do was tuck the collar in a bit, slim down the puffy sleeves, and trim the sides! If only I had found this shirt first! See what I mean about leveling up along the way?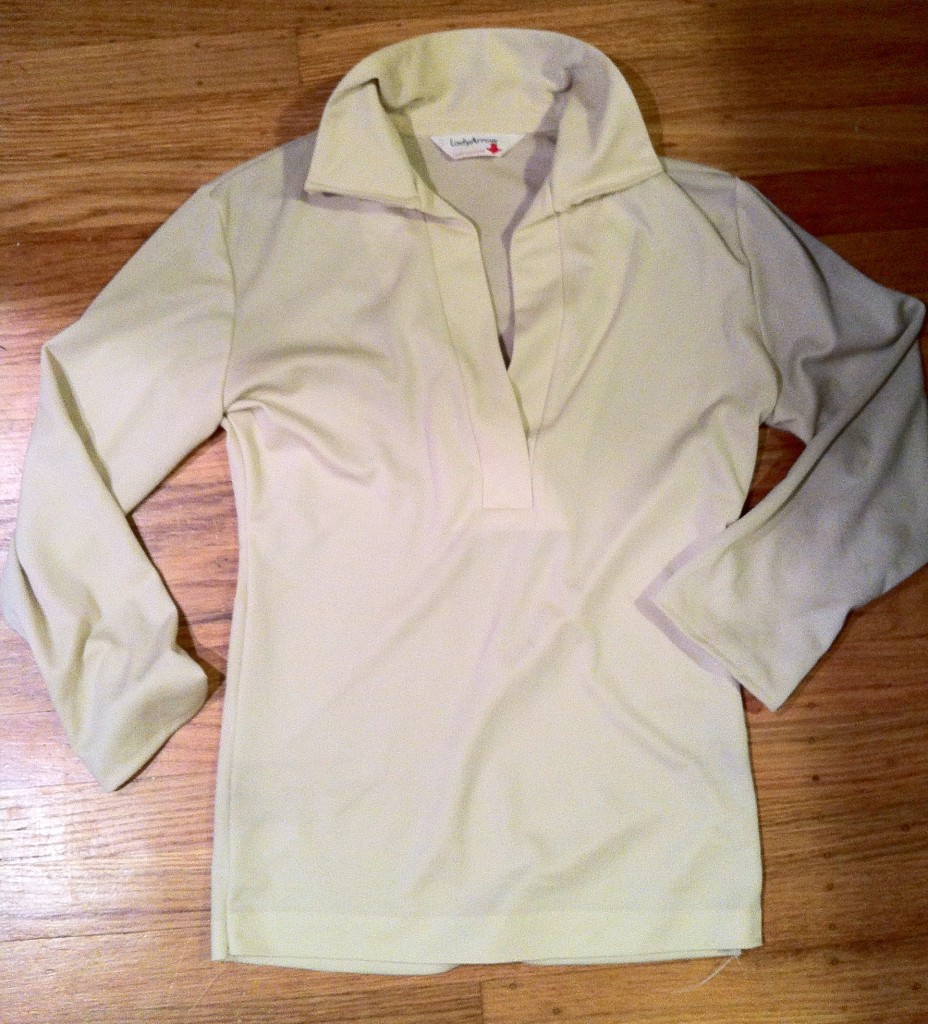 The Han Solo Pants:
For the pants, I bought about 8 pairs of navy pants before finding the right one. I would hate to buy some really nice khakis only to destroy them so I tried to stay on a budget for this. I initially thought the navy work pants from Dickies would be perfect, but they were way too dark. I tried Banana Republic, Gap, and Old Navy, but no luck. Finally as I was returning my online purchases to the Old Navy store, I happened upon their kids uniform section! Navy pants galore! I tried on a pair of size 16 girls pants and they fit! LOL. Great to know that I have the body of a little girl. :\ And you can't do much better than a $12 pair of pants. So if you happen to wear a women's 0-2 pants, definitely check out their pants here.
I knew I didn't have the right machine to embroider red bloodstripes all the way down the leg so I decided to buy some red seam binding (about 3/4″ wide) and draw the stripes on the strip. I marked about every half inch down the red strip allowing about 1/16″ room for the thickness of the lines. This was pretty tedious, but I'm sure it beats embroidering! I decided to use a blue permanent marker (not a Sharpie because it runs funny). Make sure to test this out first to see if the ink will run!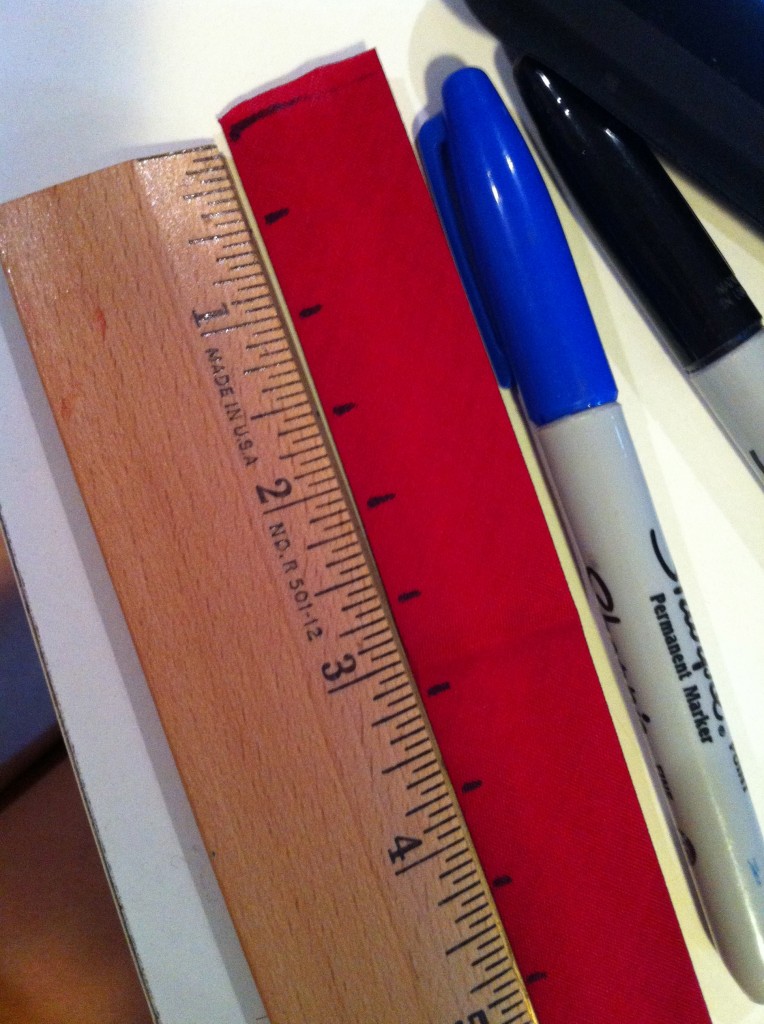 And since I was wearing long boots, I knew I didn't have to do the entire pant leg. In fact, I decided to cut the pants up to my calves just to keep my legs cooler and prevent having to stuff my pants in the boots.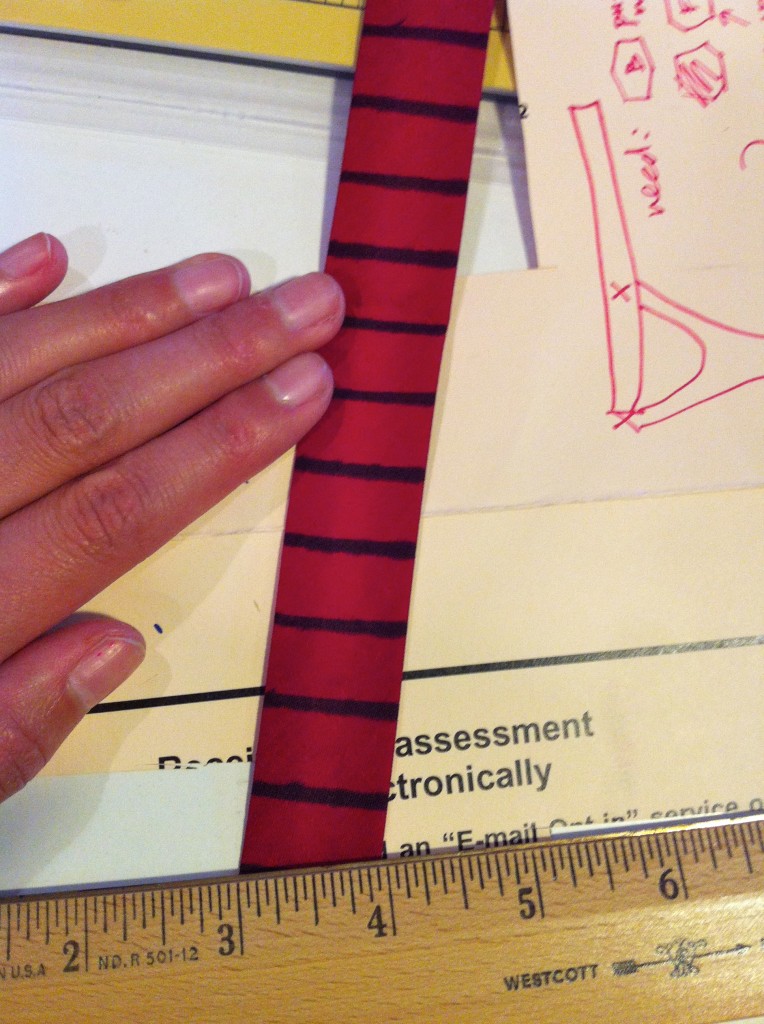 And I really hate glue-gunning fabric, but there was no way I was going to take apart all the seams and sew this on. If you can find the iron-on version of this seam tape, definitely buy that one! Otherwise, you'll have to glue gun everything like I did here.