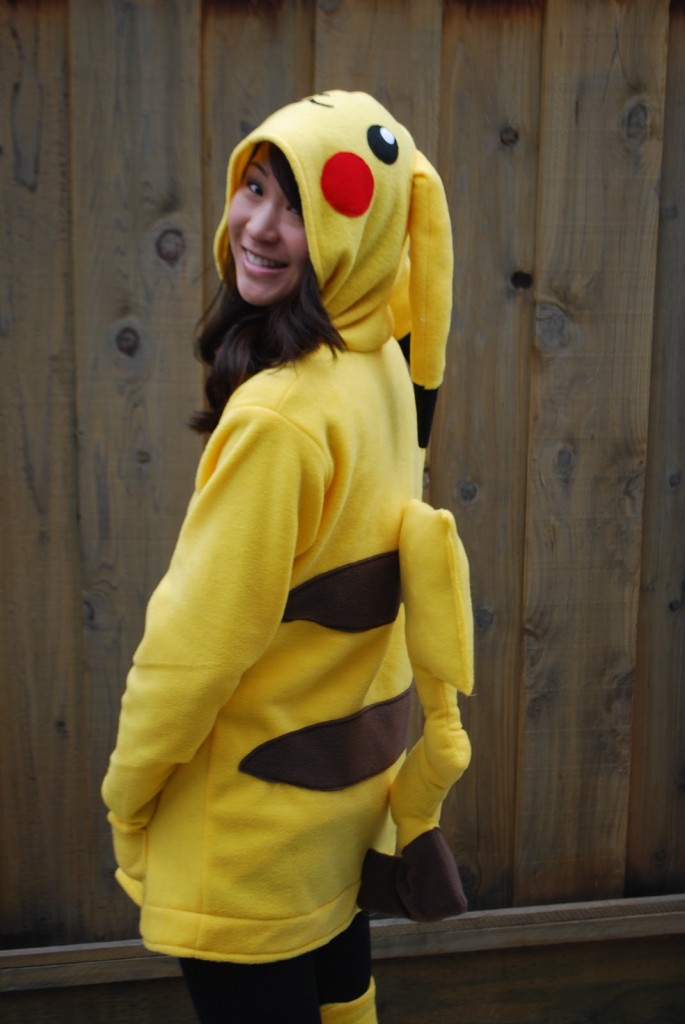 After a super fun Friday at Wondercon, I had no problem waking up bright and early for another geek filled day. But instead of putting on yet another Star Wars T-shirt, today I was going as… dun dun da dahh… PIKACHU! Here's my original concept art for it. Professional, I know!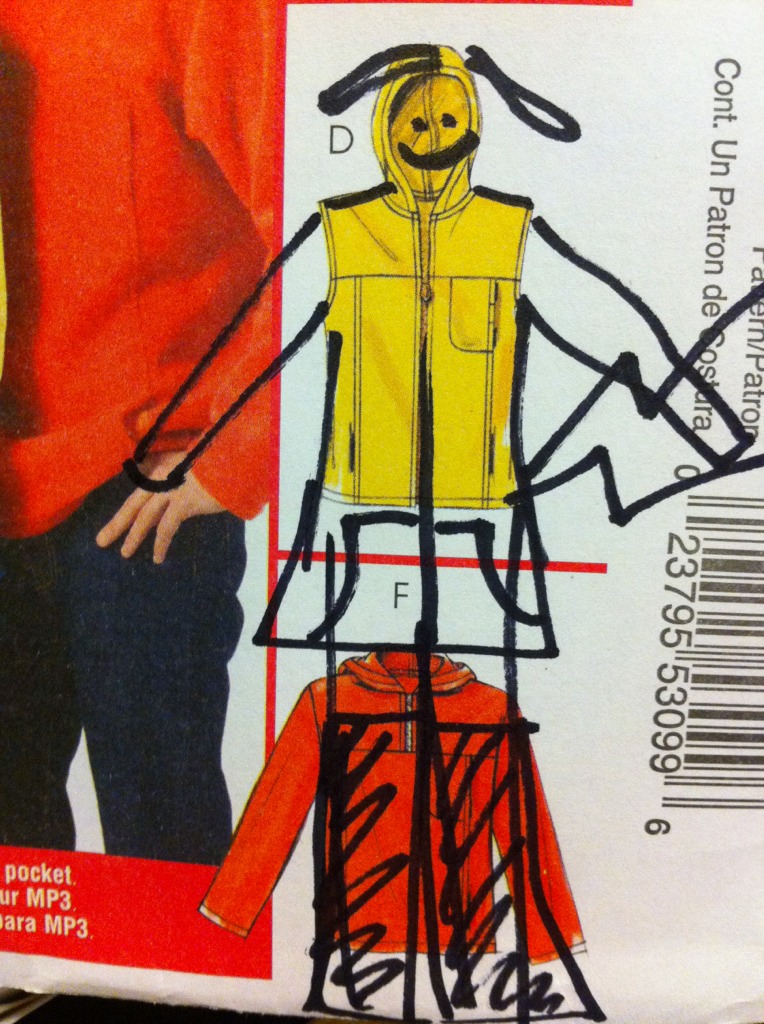 I basically bought a sewing pattern for a fleece hoodie, made it longer than normal, and had to make some adjustments for my size. Total cost = $15. Total labor = about 12 hours? I lost track.
As with every pattern, first I cut out all the templates and fabric. Then I worked on the hood first since I needed to lay out the face/ears first before anything else. I lightly stuffed the ears with stuffing and sewed them on to the completed hood.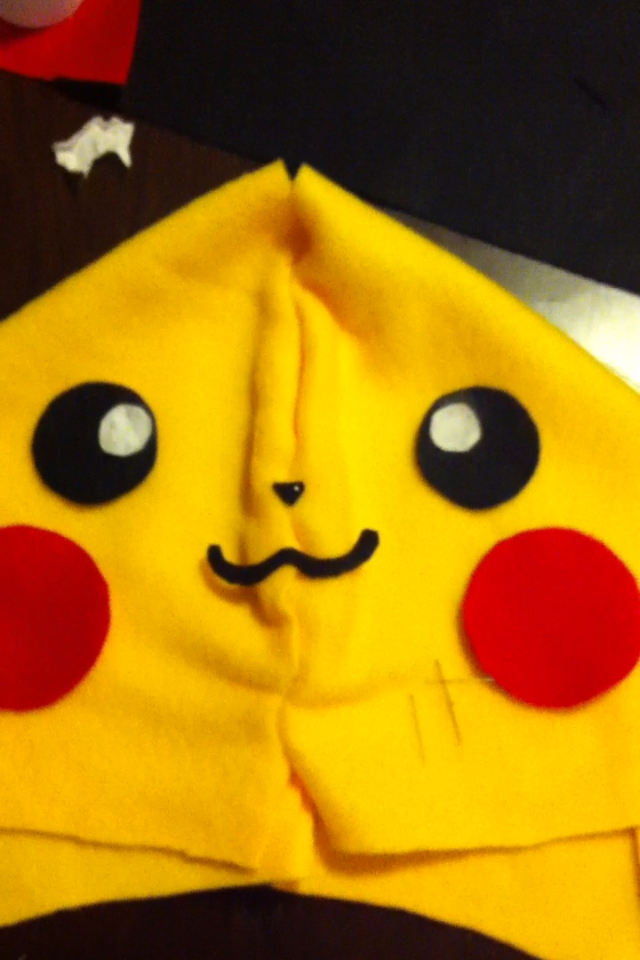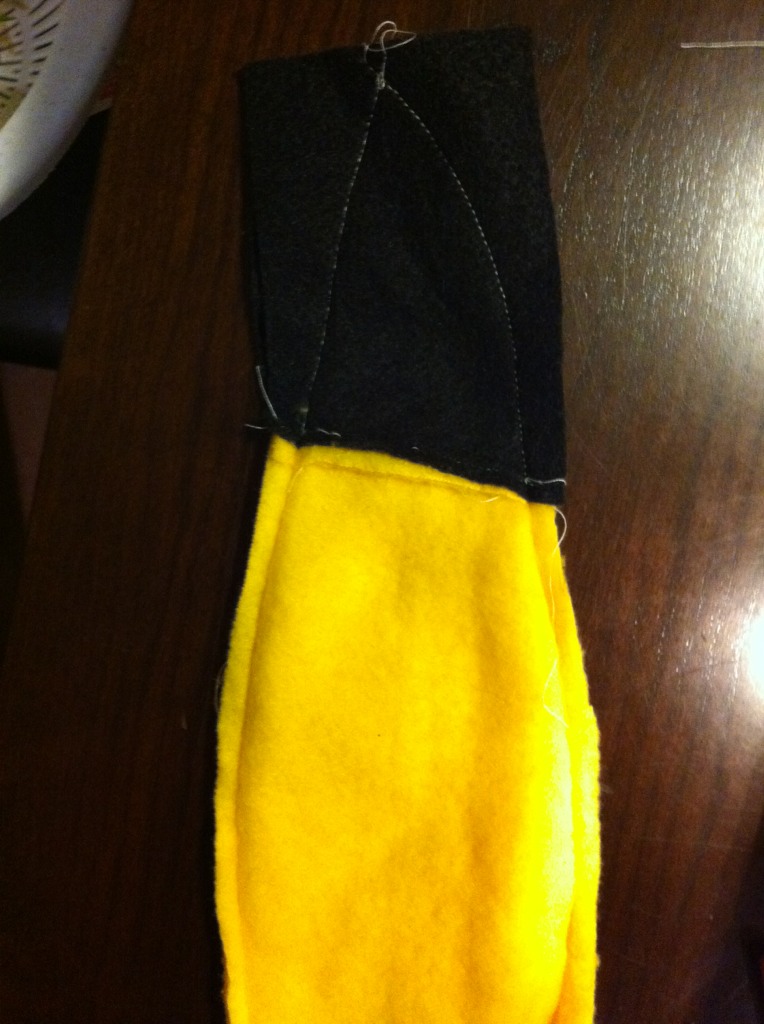 Then I attached the hood to the "vest" portion of the jacket. At this point, I hadn't sewn the face on yet since I had to hand sew that part anyways. I left that for the end just in case I changed the design. At this point, I sewed the rest of the jacket on in this order – zipper, pockets, bottom hem, 2 brown Pikachu stripes in the back, sleeves, sleeve hem.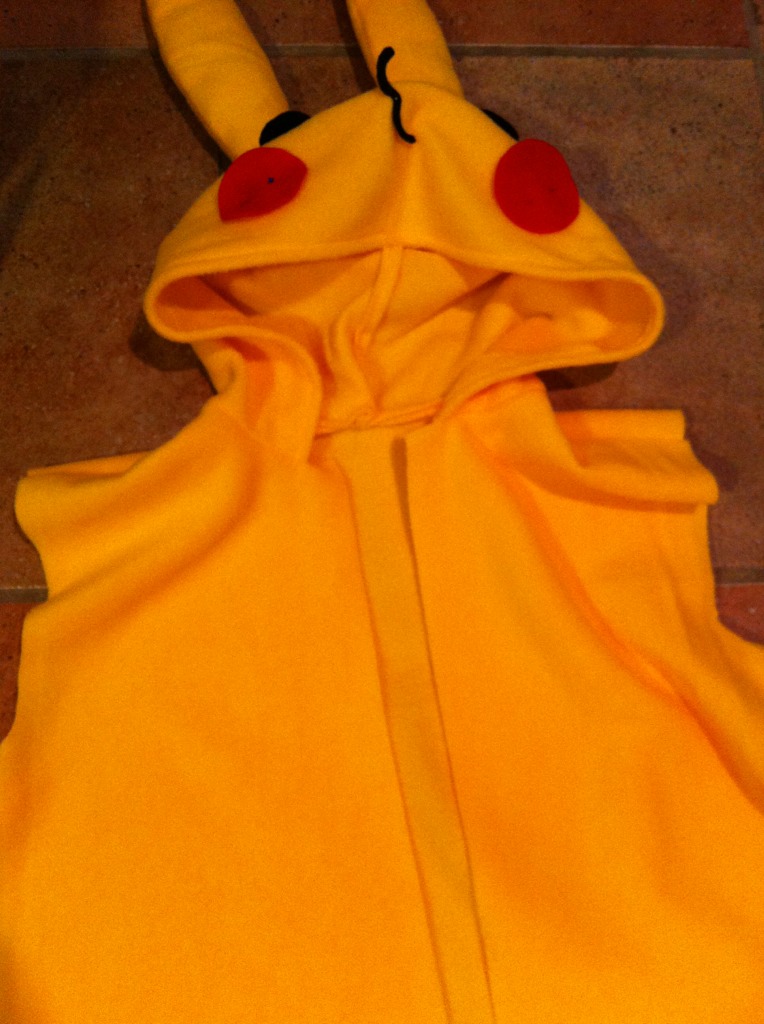 Once the main hoodie was done, I had to figure out what to do for the tail. I saw a few renditions of Pikachu tails where people attached them to belts or even just left them limp. But then I saw one girl safety pin the tail to her back. I thought that was brilliant so I used that idea. I cut out 2 giant zig zag shapes and sewed them together, leaving 2 generous sized openings for stuffing (one at the big end, and one towards the middle of the tail since I knew those small areas might be difficult to stuff. I decided to use a mix of stuffing and cardboard to structure the shape of the tail. I put in maybe 5 small pieces of cardboard for the whole tail and then I closed up all the openings. Then I safety pinned the tail to the back of the hoodie.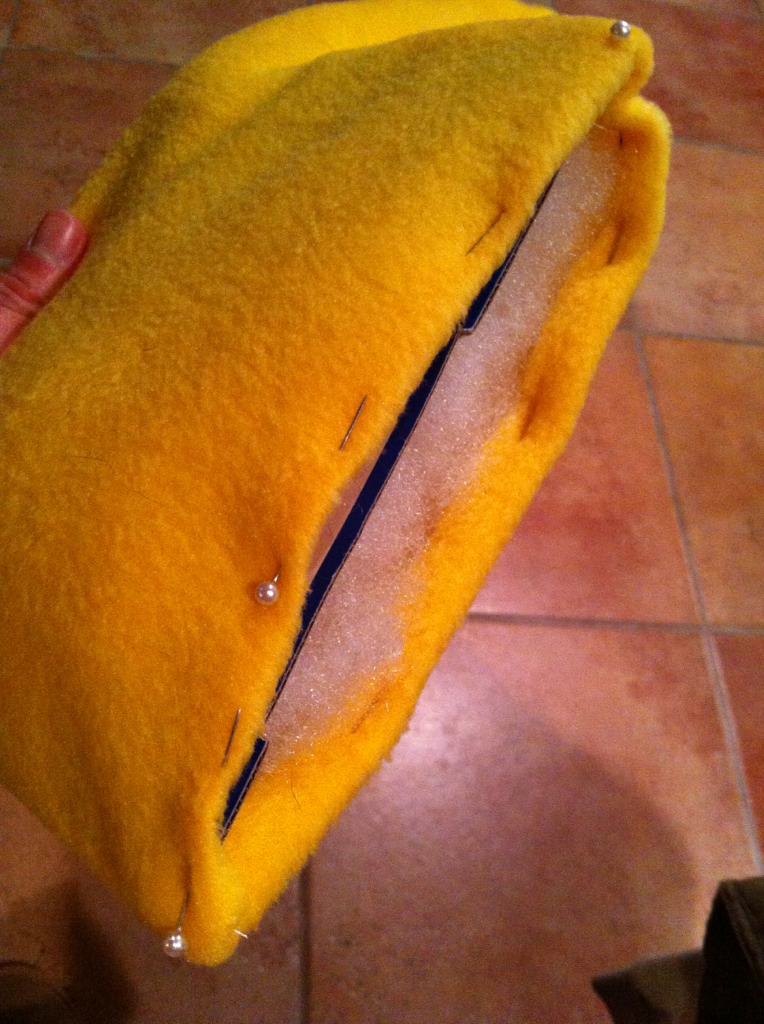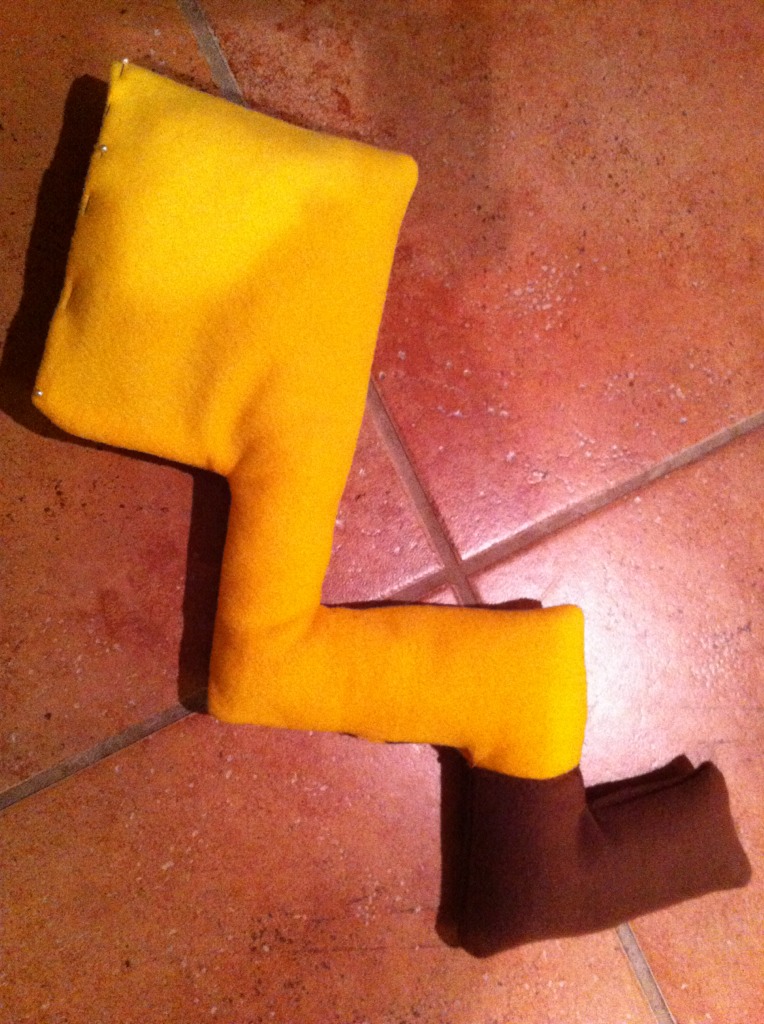 And here's the finished product!
I found ASH!!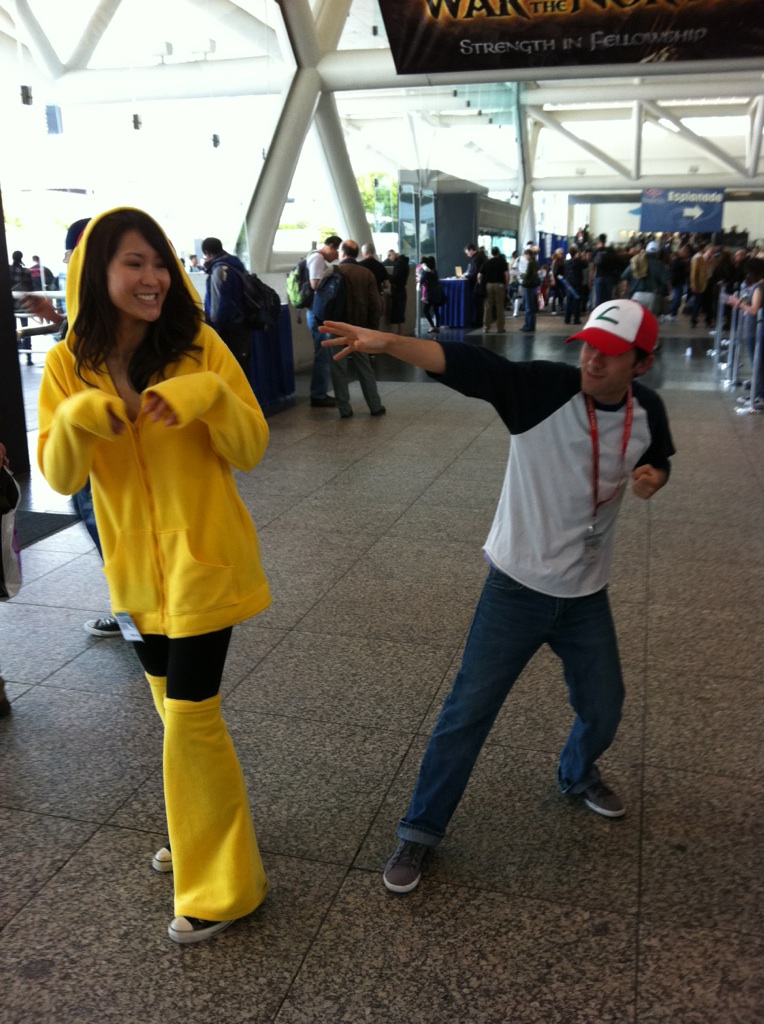 And Princess Peach!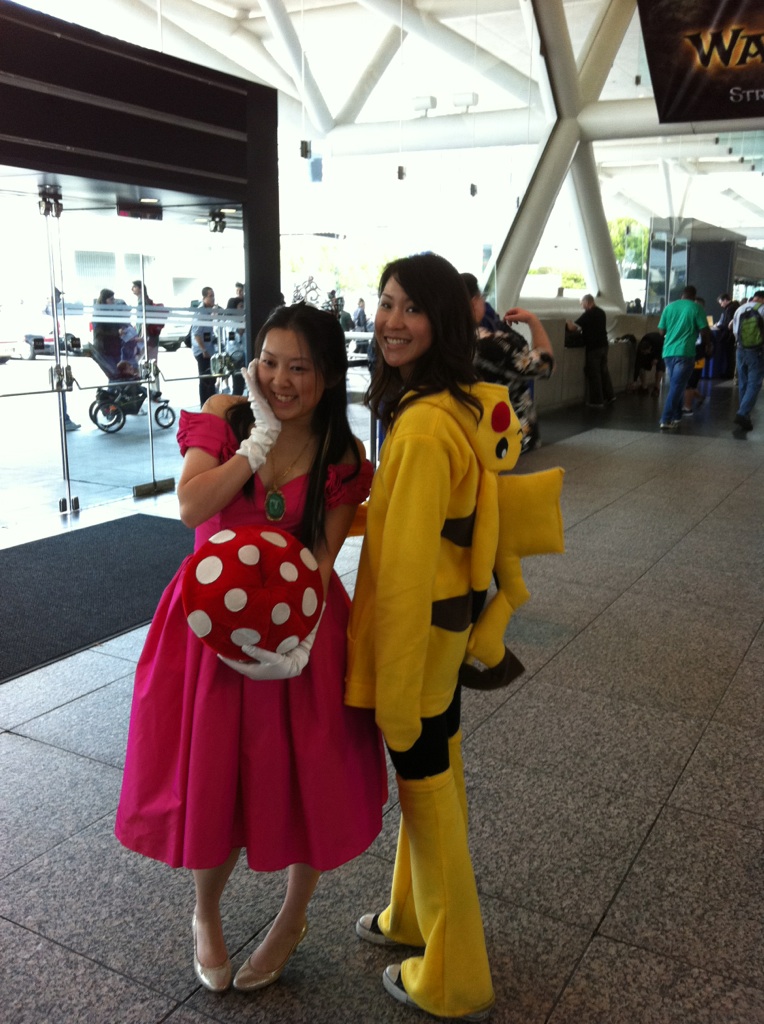 Overall Saturday went by in a blur. Coordinating with 6+ people is ridiculous and trying to stick together on the floor is even more ridiculous. I mostly checked out the Artist Alley, the Super panel with Rainn Wilson, and proceeded to compete in the MTG 2 headed giant tourney, which went way too fast. They barely gave us enough time to make our decks (even less than the previous day's draft) and my partner and I both could not get our 2nd land color for over 10 rounds. So frustrating!! The 2 headed tourney was sort of a waste of time in the end because we didn't really get our money's worth, but oh well. It was still lots of fun and a great experience since I've never done a two headed giant tourney. Oh, and in normal comic con weirdness, we even got approached by a creepy wizard in a sequined cape who wanted to show us his rat deck! Lol.